Sexy Cow Boy Girl
Fox Pflueger rides a member of the audience like a pony. Pflueger then puts the cowboygirl hat on the random participant, plugs themself with a neon pony tail and lets their guest ride them until the song finishes.
Contains Explicit themes and Audience Participation
Photo and Styling by Laurel & Hecctor
The Feminist Genesis
After being kicked out of The Garden of Eden Eve becomes mysteriously pregnant and must fend for themselves as they walk through the night. After transforming into the Virgin Mother Eve gives birth to the universal saviour in a wet explosion.
"The Lobster"
Fox Pflueger as a Lobster
Costume by Sarah Seahorse
Photo by Jean-Louis Kocher
"QUEEN KONG"
Drag Act to "Killer Queen" and "I want to break free" by Queen. 5 mins
Tribute to a 12 storey tall man-eating Lady Gorilla featuring the worlds largest hot cops.
Photo by Eden Swan
"A RETELLING OF THE FABLE OF THE GARDEN OF EDEN"
Burlesque performance. 4 mins.
A version of the fable of Adam and Eve in which upon biting the serpents apple Eve becomes independent and enlightened.
"TRANS SPECIES PIG PERSXN"
Stage performance 3.30mins
After finding themselves dissatisfied with their imperfect femme form Fox Pflueger transforms themselves into their inner swine and sits on a cake, happy as a pig in shit.
Photo by Peter Cahill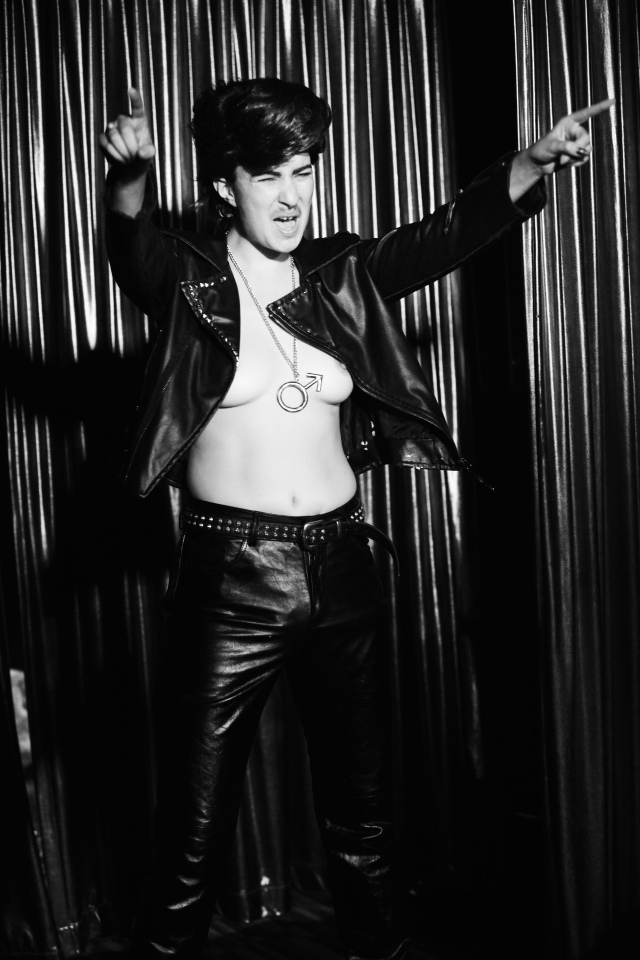 "TOUCH THE LEATHER"
Stage show. Contains nudity. 3.30mins.
A drag king performance exploring the privilege of male sexuality with tits, dicks and a "money shot".
Wig by Steve Monroe
Photo credit Peter Cahill.


 
"FOX PFLUEGER SINGS ABOUT LOVING THEMSELVES"
Stage Performance. Contains nudity. 6mins.
A performance art ritual piece where Fox Pflueger rejects heteronormative monogamy while actualising their self love in the form of singing and taking their clothes off.
Photo by Peter Cahill
Photographed at MAX FREAK presents Provocateur
"VENUS UNVEILED"
Installation performance piece. 5-20mins
Fox Pflueger unveils themselves as Venus before anointing themselves entirely in sweet almond oil and covering their body in confetti glitter.
Photo credit Simon Russell
Photographed at Pleasure Planet
"FROM WHENCE YOU CAME"
Stage Performance. 12mins.
The orgasmic birth of The Indigo Child, spawn of Mother Earth. Please wish them happy birthday.
A collaborative performance with Ten Fingerz and Sex Cake Monster.
Makeup by Jesi Jackson.
Photo credit Spinferno
"A TRULY PATRIOTIC AUSTRA-ALIEN"
Stage performance. 5mins.
In light of the state of The Lucky Country Fox Pflueger sings the new national anthem with true patriotism.
Wig by Steve Monroe
Photography by Peter Cahill
"DANCE/SEX/MAGICK" for BEAÙT
Beaùt club hosts for a four month residency. Performances included interpretative and choreographed dance, roving with audience participation, immersive experiential installations & ritual magick.
Performed in collaboration and compaionship with Celeste Electric (pictured)
Outfit credit FrootFuckt
Photo Credit Gaff-E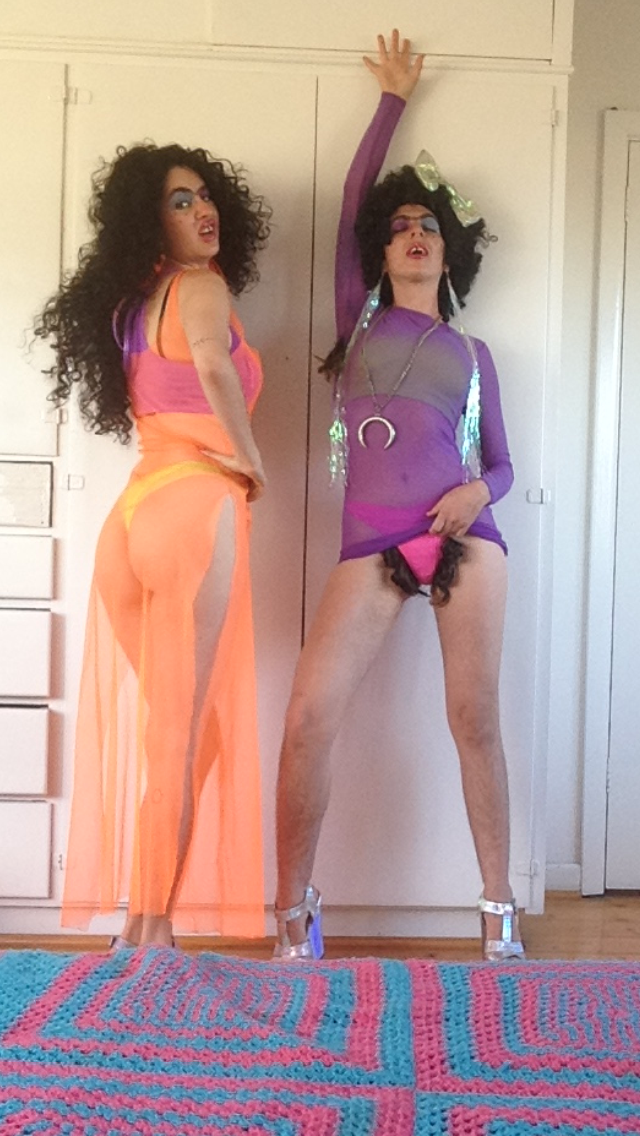 "CUNTS OF CUMQUOT"
Interactive roving performance
The Aerola Twins are sexually enlightened beings from outer space whom have arrived on Earth to educate humxns about the imminent sexual revolution.
Pictured also Frankie Fridge
"STAR OF BETHLAHEM"
Hype girl go-go dancer for Salvador Darling at Let Them Eat Cake.
Photo credit Rebecca Ruter
VAGINA PANCAKES "DOOF NEWS"
Doof News is a roving performance that reports on the doof from the doof.
Collaboration with Tenfingerz and Sebastian Berto.